Presentation
Full electric drive
High performance & rough terrain capacities
Maintenance and service-oriented
Extended duty cycles
Specifications
Full electric drive
Silent & clean operations
Versatile use: outdoor / indoor
Smooth & proportional movements
High performance & rough terrain capacities
Drive axle with manual locking rear differential increases ground traction
Platform capacity of 750 kg
Oscillating axle delivers excellent ground adherence
Maintenance and service-oriented
Activ'Screen: on-board configuration & diagnostic interface
Easy access to components
Haulotte Activ'Energy Management takes care of your battery
Extended duty cycles
Multiple charging modes including optional accelerated charge
Optional & removable, low fuel consumption Range Extender (Stage 5)
| | |
| --- | --- |
| Working height | 15 m |
| Platform height | 13 m |
| Max. drive working height | 15 m |
| Lift capacity | 750 kg (4 pers.) |
| Lift capacity on the extension | 225 kg |
| Platform length | 3.93 m |
| Platform length - extended | 5.89 m |
| XL platform length (option) | 4.94 m |
| XL platform length - extended (option) | 7.5 m |
| Length - extension | 0.98 m |
| Lenght - extension XL option | 1.28 m |
| Platform width - outside | 1.89 m |
| Height - stowed | 3.05 m |
| | |
| --- | --- |
| Height - guardrails lowered | 2.25 m |
| Overall width | 2.3 m |
| Length | 4.4 m |
| Wheelbase | 2.76 m |
| Ground clearance | 30.7 cm |
| Drive speed | 5 km/h |
| Gradeability | 45 % |
| Tilt (longitudinal / lateral) | 5° / 3° |
| Turning radius - outside | 6.75 m |
| Tyres | 830 x 285 mm |
| Batteries | 8 x 6 V - 435 Ah (C20) |
| Weight | 7 518 kg |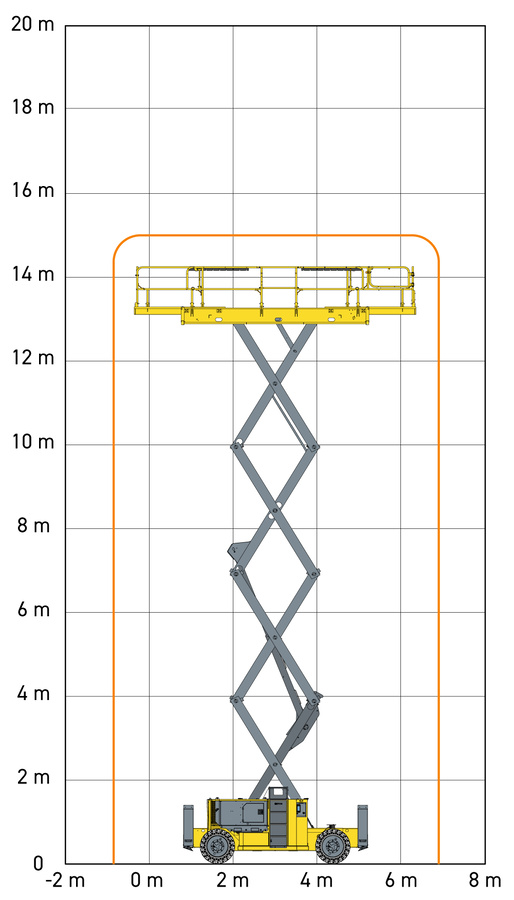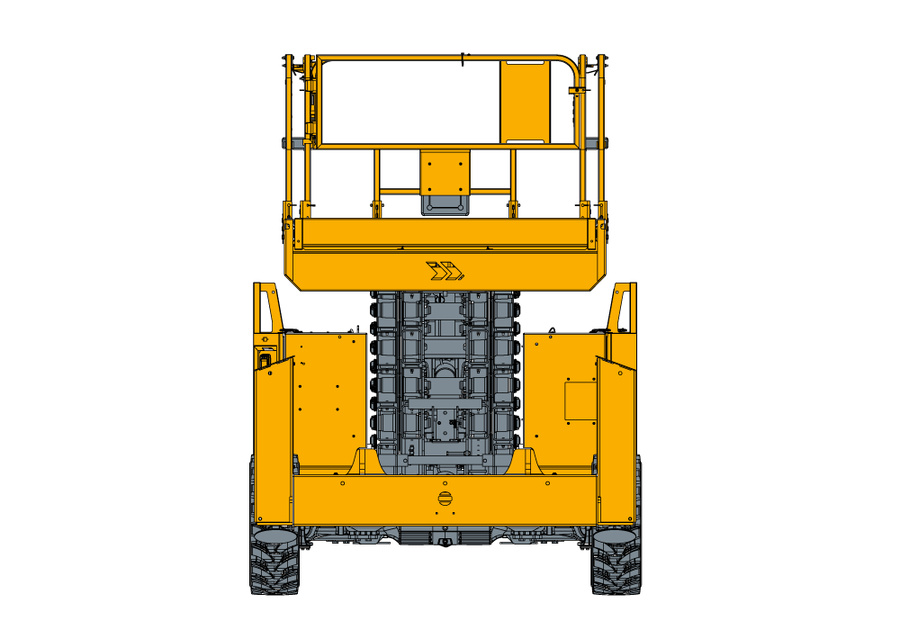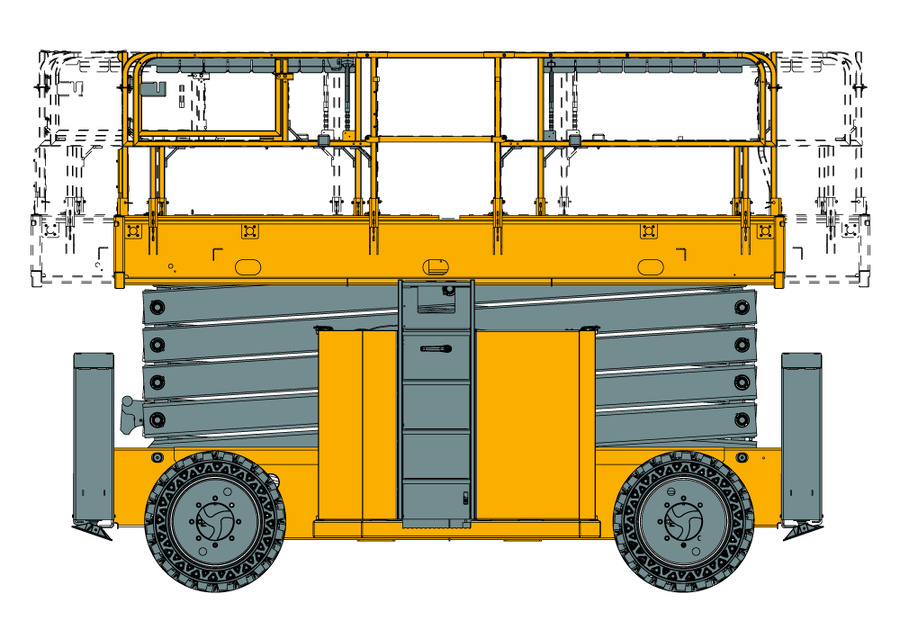 AC motors
Front oscillating axle - 6°
4 wheel drive
Mechanical axle with manual locking rear differential
Outriggers with centralized or individual controls
Dual platform extensions
Two drop bar entries
Folding handrails
Haulotte Activ'Energy Management: smart battery management system & manual centralized watering
48V battery pack
Haulotte Activ'Screen
Haulotte Activ'Lighting System for safe loading in conditions of low visibility
XL platform with dual extensions (7.5 m)
Automatic battery water-filling system
Cold & arctic weather kits
Double swing gate entries
Range Extender (5.5 kW - Stage 5)
Accelerated charger (380 V)
Non marking tires
Material handling rack
AC power to platform plug (110 / 230 V)
Scissors stack protection
Platform lighting
Work light
Telematics solutions
Telematics holder & predisposition
Haulotte Activ'Shield Bar

PULSEO, the Haulotte's range of all-terrain electric mobile elevating work platforms
Lower energy costs and less air and noise pollution, all with optimal performance: that is the promise of the electrical architecture featured in PULSEO machinery.
Discover Pulseo generation
SHERPAL the remote monitoring solution by Haulotte
Access valuable information about your Haulotte machines remotely. The data collected is reprocessed, organized and provided to assist you in your daily tasks.
Discover SHERPAL
In addition, Haulotte
provides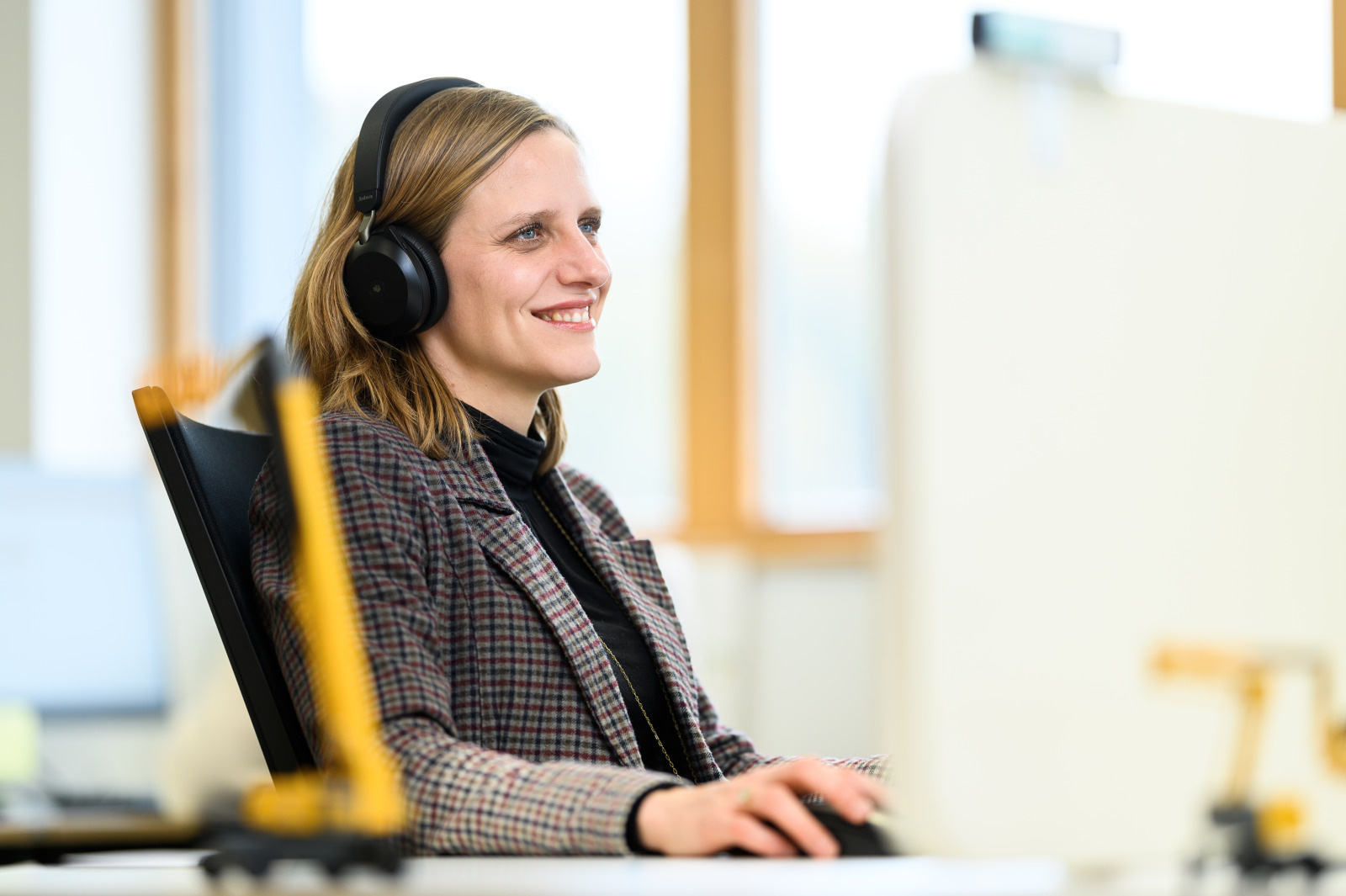 Call center for a rapid online troubleshooting
Mobile experts for on-site intervention
Fully equipped workshop for complex repairs
Haulotte diag a universal diagnostic tool
Online documentation accessible 24/7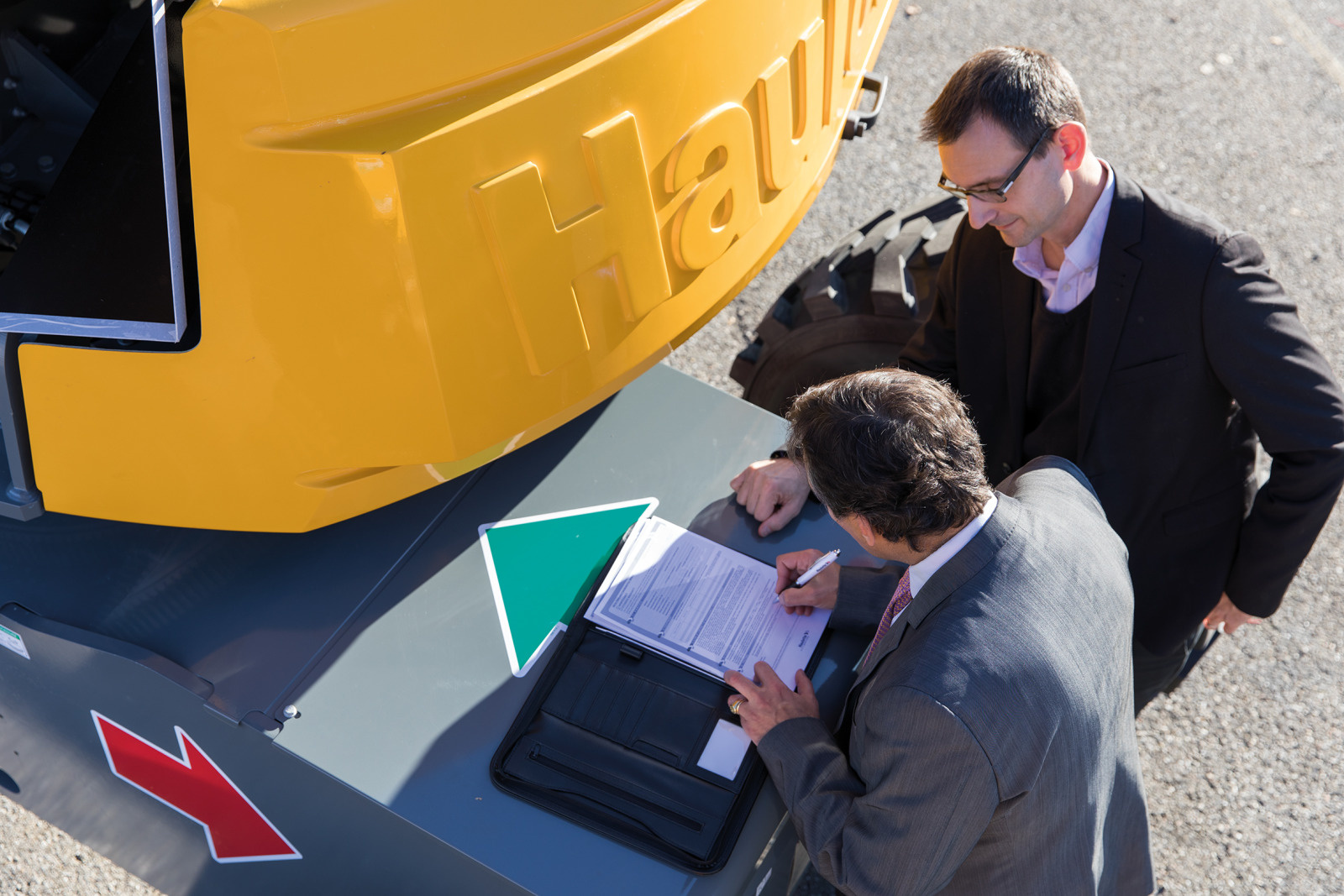 Maintenance support for your machines (including labor, travel expenses, and original parts)
Annual management of your equipment maintenance
Optimization of the total cost of ownership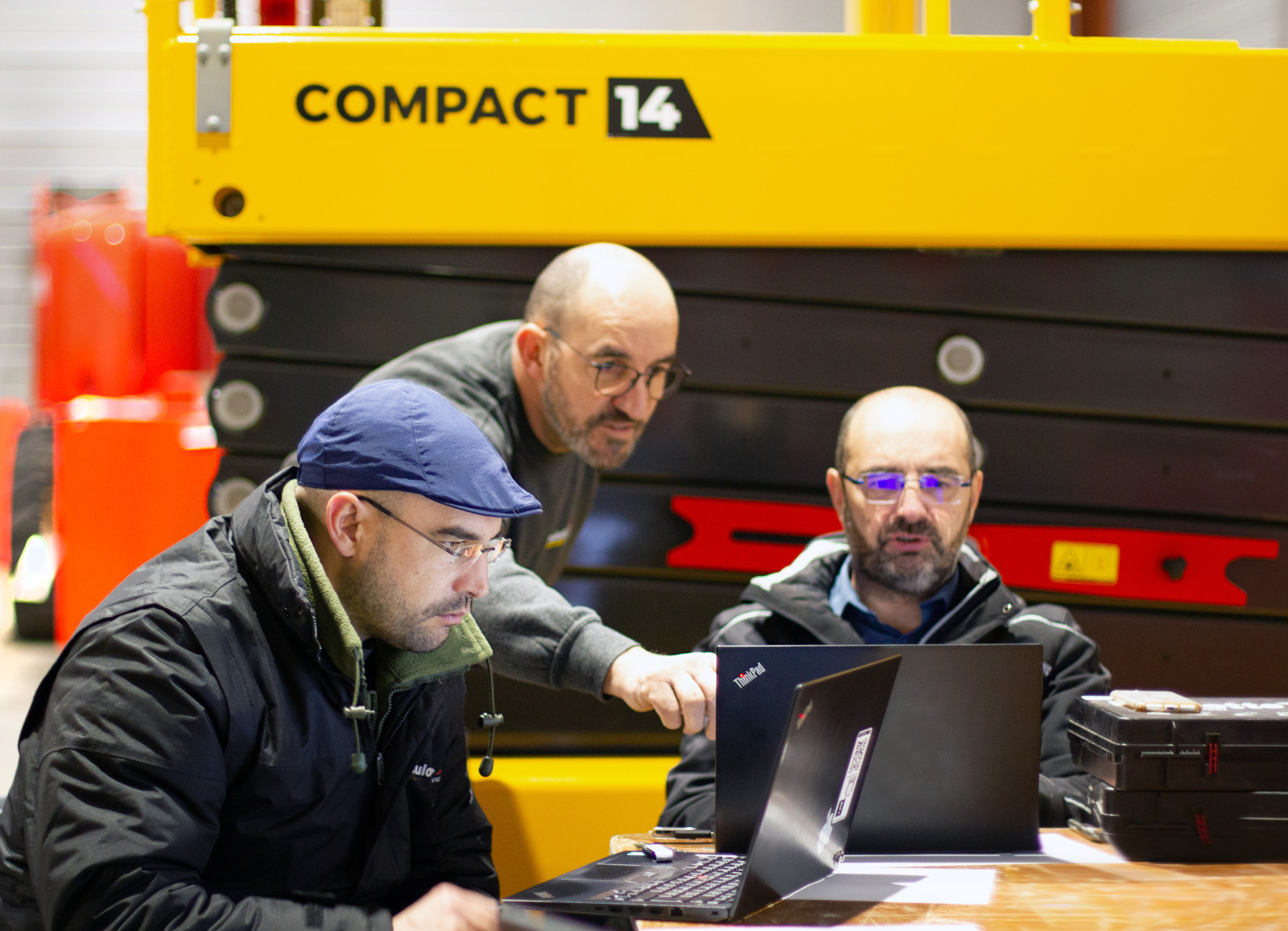 Free access to all technical documentation for Haulotte machine models.
Information on equipment
Manuals for safe use of machines
All documents are ready to download
Accessible 24/7